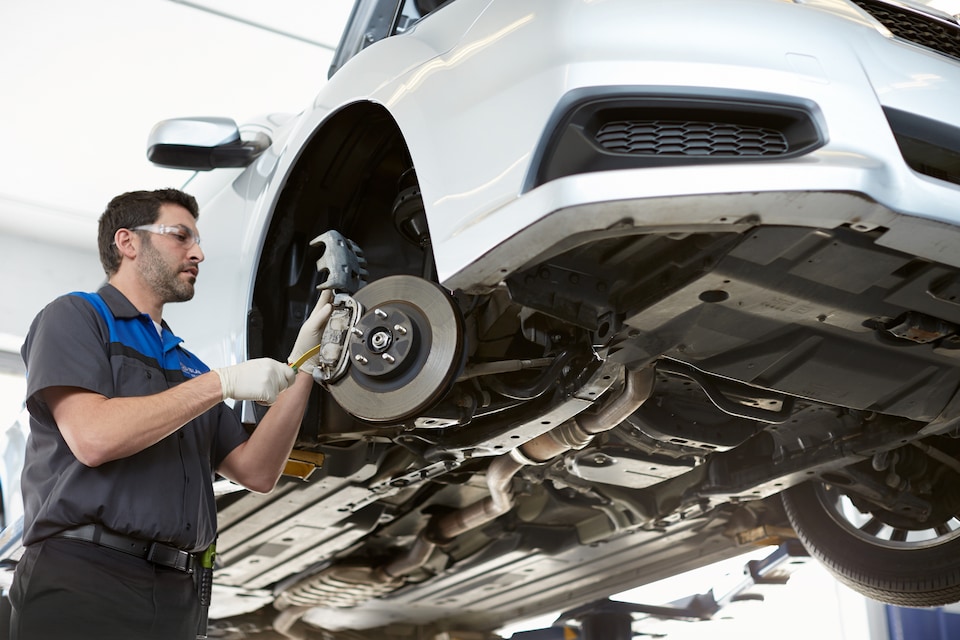 Get Quality Brake Repair on Your Vehicle
Do you hear some squealing or strange noises coming from your brakes? Well, you don't want to take any chances. The good news is that you can get expert brake repair work at Subaru Superstore in Chandler. We offer excellent services and competitive prices on all Subaru brake repairs. Best of all, we can service your brakes quickly and get you back on the roads of Phoenix in no time.
When Should You Have Your Brakes Checked?
You don't want to wait until it is too late to have your brakes repaired. Here are some signs that your brakes need to be inspected:
You hear strange noises like squeaking or grinding from your brakes.
Your brake pedal feels spongy.
It takes longer than usual to stop your vehicle.
You notice more and more brake dust on your wheels.
Your dashboard brake lights are flashing or lit indicating problems with your anti-lock brake system.
At Subaru Superstore, we can perform brake inspections to check every part of your brake system.
Brake Services We Offer
We can expertly repair every part of your brake system on any Subaru car or SUV. Here is a highlight of the services that we offer for Mesa and Scottsdale customers:
Anti-lock brake system repair
Brake disc repair
Shoe repair replacement
Master cylinder repair
Random parts replacement
Drum brake repair
We Use Top Quality Parts
To ensure the best quality, results we use top parts including genuine original equipment manufacturer (OEM) parts for any Subaru. You don't want to take your chances at anything less. At Subaru Superstore, we will ensure that your brake repair is done right.
Fast Servicing
At Subaru Superstore, our fully staffed service department will work quickly. We understand that your time is valuable, and we will do what it takes to get you back on the road.
Make an Appointment Today!
You can make an appointment on our website to see us today. You can also contact our service department at any time. Make sure your brakes are in top condition with expert service from Subaru Superstore. Chose us for your next Subaru service experience.
Hours
Monday

7:00am - 9:00pm

Tuesday

7:00am - 9:00pm

Wednesday

7:00am - 9:00pm

Thursday

7:00am - 9:00pm

Friday

7:00am - 9:00pm

Saturday

7:00am - 9:00pm

Sunday

10:00am - 6:00pm