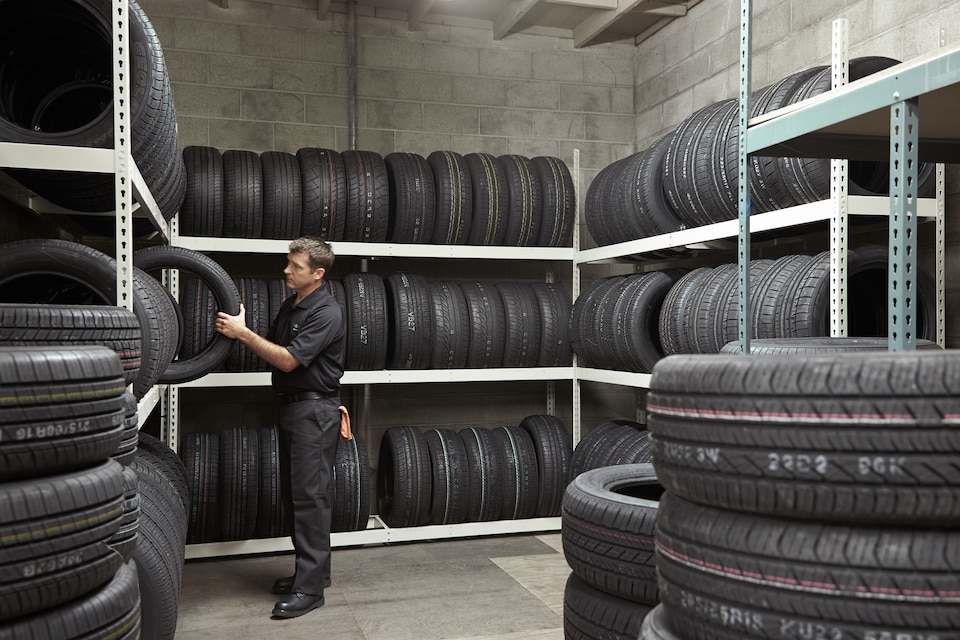 Keep Your Subaru Riding Smoothly with Good Tire Maintenance
Tire maintenance may be one of the most overlooked aspects of car care, but it's also one of the most important for Chandler drivers. While drivers can go months without thinking about their tires at all unless they get a flat, it's a good idea to give regular care to your tires by following the guidelines laid out in your Subaru owner's manual. From tire pressure to proper tire rotations, your manual makes it easy to know when it's time to pay attention to your tires.
You'll want to check your tire pressure every month or two so you can add air to keep them within the pressure range listed in your owner's manual. If your tires aren't properly inflated, they'll begin to wear in uneven patterns that cause weak spots causing an eventual flat or blowout. If you're traveling at highway speeds when the blowout occurs, the results could be catastrophic, making proper tire inflation an important factor for Mesa and Scottsdale drivers.
Another cause of uneven wear patterns that could result in a blowout is neglecting scheduled tire rotations. The way you drive and the typical routes you use every day will all contribute to your tires' wear rate. Over time, your established patterns will have an effect that causes some tires to wear faster than others. Rotating tires to different positions allow your tires to wear at a slower rate. This will save you money by allowing you to get more use out of your tires. Typically, tires should be rotated every six months or so, but if you don't drive your car every day, use your mileage as a guide instead. Most recommendations call for rotating your tires every 6,000 to 8,000 miles.
Your vehicle's alignment also affects tire wear, which is why mechanics recommend having it checked and adjusted every time you buy a new set of tires. Not only will this keep your tires wearing evenly, but you'll also enjoy smoother performance while driving and greater precision from your steering wheel as you commute to Phoenix.
Seasonal changes also take a toll on your tires. Hot roads baked by the summer sun add to the heat created by friction as your tires travel over the surface. This can cause tires to perform sluggishly and also reduces their traction. Summer tires have a specially formulated composition that keeps them firm in situations where there are high temperatures in addition to the strategically designed tread pattern that offers more grip.
Likewise, a temperature drop can affect your tire pressure as well as offering the additional challenge of slippery roads when the weather takes a turn for the worse. All-season or winter tires offer a more aggressive tread pattern and a different chemical composition that allows them to stay supple in colder temperatures. You can keep a dedicated set for each season and have them installed in the spring or fall so you'll be ready for whatever weather lies ahead.
Your tires will let you know it's time for an entirely new set by exposing a warning color strip that is embedded under the rubber surface. You can also insert a penny into a tread groove, making sure Abraham Lincoln is placed headfirst. If you can see the top of his head, your tread is low, and you need a new set of tires.
Visit us for all of your tire maintenance and auto servicing needs. We use Subaru recommended parts and follow all manufacturer guidelines when performing pressure checks and tire rotations. Whether you'd like us to check the tread depth of your current tires or install an entirely new set, our technicians are ready to get to work, ensuring you've got a safe and smooth ride as quickly as possible. Be sure to schedule your next Subaru service appointment online as well.
Hours
Monday

7:00am - 9:00pm

Tuesday

7:00am - 9:00pm

Wednesday

7:00am - 9:00pm

Thursday

7:00am - 9:00pm

Friday

7:00am - 9:00pm

Saturday

7:00am - 9:00pm

Sunday

10:00am - 6:00pm