The 2021 Subaru Love Promise Customer and Community Commitment Award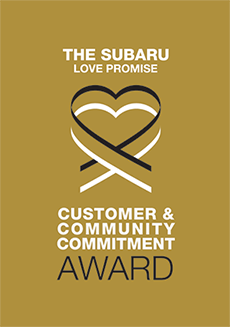 We've been nationally recognized for our dedication to our customers, our community, and the Subaru Love Promise.
We're honored to receive the 2021 Subaru Love Promise Customer and Community Commitment Award. This award nationally recognizes elite Subaru retailers who provide an exceptional customer experience at every interaction with Subaru. These retailers have also demonstrated an outstanding commitment to supporting passions and causes in their local communities in important areas such as the environment, community, health, education, and pets.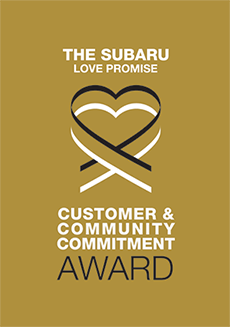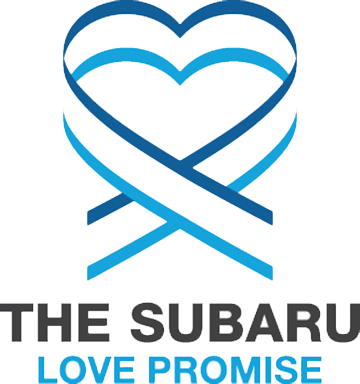 What is the Subaru Love Promise?
Subaru and our retailers believe in making the world a better place and the Subaru Love Promise is our vision of respecting all people. This is our commitment to show love and respect to our customers and to work to make a positive impact in the world.
How is Subaru Superstore of Chandler dedicated locally to the Love Promise?
At Subaru Superstore, our Love Promise to the Valley can be seen in our partnerships with local nonprofits and charities. We're grateful for the opportunity, not only to be a part of the local community, but to serve it as well.
Chirping Central, Desert Labrador Retriever Rescue, Woofstock
National Parks Foundation
Chandler Education Foundation, Chandler Unified School Distr., ASU Gammage Auditorium
Feed My Starving Children, Toys for Tots, Arizona Friends of Foster Children Foundation, Meals on Wheels, Make A Wish Foundation
Alzheimer's Association - Desert Southwest
Love Promise Stories from Subaru Superstore of Chandler
Subaru and Subaru Superstore of Chandler believe in making a positive impact on the communities in which we live and work. We uphold that belief through our Love Promise Community Commitment. Every month, we select inspiring stories from customers and partners from around our area who strive to support our collective commitment and feature them here
FALL AFFCF PACKING PARTY - Rob D
On November 16th Subaru Superstore and Arizona Friends of Foster Children got together to make care packages for over 85 Foster children attending college and getting ready to study for their final exams. The packages were filled with food items, socks and blankets, along with a nice note to them know that their are people who care. Thank you to all the volunteers that assisted with the party, as well as the staff at the Superstore who provided the venue and helped put together the care packages. See you in the Spring for the next packing party!!
---
All Weather Blankets for the Homeless in Chandler - George M
On November 11th George Macedon from Fans Across America and the Salvation Army visited Subaru Superstore in Chandler to pick up 80 all weather blankets to distribute to local Chandler residents experiencing homelessness. This is the second year that George has coordinated distributing all weather blankets in association with Subaru Superstore of Chandler, and we look forward to expanding the partnership in the future to find ways that we can work together to make a difference in the local community. All donations go directly to local residents, and going forward Subaru Superstore will accept donations on behalf of the Chandler Salvation Army and deliver any items directly to them. We were very honored to assist with the blankets, and are excited about the opportunity to help in the future. Thank you George and all of the employees at Subaru Superstore who assisted in this project.
---
Subaru Helps Feed AZ at United Food Bank - Laura O
Since the COVID-19 pandemic, United Food Bank has seen a major increase in the need for food assistance in our community, and as many as one in six Arizona families has struggled with hunger. In March, five Subaru dealerships in Arizona came together to build 710 emergency food bags for United Food Bank: Subaru Superstore of Chandler, Subaru Superstore of Surprise, AutoNation Subaru Scottsdale, Peoria Subaru, and Camelback Subaru. Each emergency food bag provides about 14 meals to families in need. And with Subaru's support of Feeding America food banks in 2021, United Food Bank will be able to provide about 150,000 meals for Arizonans in need. Thank you to these Subaru teams and Subaru Love Promise for supporting Feeding America food banks and helping us feed families throughout the East Valley and eastern AZ!
---
Arizona Friends of Foster Children packing party - Rob D
On April 15th the Arizona Friends of Forster Children Foundation held its semi annual packing party at the Subaru Superstore of Chandler. The event was held in the main showroom, and allowed volunteers from the organization to join with Superstore and Subaru employees to put together care packages and encouraging letters to foster children studying for their final exams. A total of eighty one packages were made and readied to be sent out to encourage and help the students finish the year strongly. This is the third year that the groups have partnered together for this event, and we are already looking forward to another packing party in December for fall final exams. A big thank you to everyone involved, and best of luck to the students on both their exams and in the future.
---
Phoenix Subaru Retailers Pack Emergency Food Boxes - United Food Bank A
The employees of all the local Phoenix Subaru retailers volunteered at the United Food Bank to pack emergency food bags. It was a fun and very productive event! At the end of the shift, they packed enough to feed 770 families! The Phoenix Subaru retailers are proud to donate their time and support to such a great cause. This is just one of the ways the Subaru retailers in Arizona are giving back and being more than just car retailers! Pictured are our proud volunteers from Subaru Superstore in Chandler as well as the entire group. Thank you United Food Bank for all the great work you do!
---
Subaru Helps Feed AZ at United Food Bank - Laura O
In February, the Subaru Superstore of Chandler team visited United Food Bank in Mesa and helped build 910 food bags for families in need! Since the COVID-19 pandemic, United Food Bank has seen a major increase in the need for food in our community, and as many as one in six Arizonans have struggled with hunger. Volunteers are critical to our mission of feeding Arizonans facing hunger, and we're thankful the Subaru team plans to continue volunteering throughout the year. You can join the Subaru Love Promise in supporting local food banks by signing up to volunteer or donating at UnitedFoodBank.org.
---
Subaru Made 34 Dog's Day at AAWL - Melissa S
Thank you to Subaru for saving the lives of dogs and cats. At the Arizona Animal Welfare League this October, 2020 we were able to have light shine in on 34 dogs as they found their forever home and had their adoption fee covered thanks to you Subaru. We are so grateful for these partnerships and have appreciated all of the support over the years from Subaru Superstore of Chandler. One particular dog, named Sunshine has the toughest battle, even before she made it to our shelter, but thanks to our community and Subaru, she now is in her forever home and will be loved and cared for. Sunshine was one of nearly 30 other dogs rescued from a hoarding situation by the Arizona Animal Welfare League. Her conditions when we found her were rough. The animal urine situation in the home where she was found was so severe that the uric acid burned her fur and damaged skin around her eyes. The damage could possibly be permanent. She's on pain medication to help with her hip issues, and she's getting stronger every day. Her medical expenses were taken care of by the AAWL Medical Miracle Fund, which helps offset the costs associated with medical procedures that go above standard vaccinations and spay and neuter. This Great Dane, Sunshine, didn't let her terrible situation cloud her outlook on life. For her new family to have the relief of her adoption fee taken care of so that they can continue to care and heal her is all they ever wished for. Thank you again to all of you at Subaru who support our dog and cat lifesaving efforts.
---
Subaru Superstore Chandler Loves to Help - St Mary's F
The Phoenix Metro Subaru Retailers and Subaru of America employees all volunteered at the St. Mary's Food bank to pack Emergency Food Boxes. It was a fun and hard-working session where we all packed over 31 pallets worth of food for those in need. Rob, Steve, Brock, Morgan and David worked hard putting canned foods and other snacks into the emergency boxes. Thank you, Subaru Superstore of Chandler Team, for volunteering your time and hard work to help the people of Phoenix! This is what Makes Subaru Superstore of Chandler more than just a car retailer!
---
Subaru Love Promise Chandler Education Foundation - Jen H
Subaru and our retailers believe in making the world a better place and the Subaru Love Promise is our vision of respecting all people. This is our commitment to show love and respect to our customers and to work to make a positive impact in the world. At Subaru Superstore, our Love Promise to the Valley can be seen in our partnerships with local nonprofits and charities, and we are humbled to be able to support the Chandler Education Foundation. We're grateful for the opportunity, not only to be a part of the local community, but to serve it as well. "For years, Subaru has supported Chandler Unified School District teachers, funding our #LifelongLearning program that provides scholarships for incredible educators pursuing advanced degrees and certifications. This year, Subaru's #ShareTheLoveEvent generously donated over $20,000 to our program. THANK YOU Subaru! Please keep Subaru in mind when you are shopping for a new or used car! #IchooseChandler" - Chandler Education Foundation
---
Consistent support when it was needed the most! - Erika K
The Subaru Superstore of Chandler is an invaluable support to Arizona Friends of Foster Children Foundation (AFFCF). AFFCF is a non-profit organization whose mission is to promote the self-esteem and enrich the lives of children in foster care in Arizona by funding activities, education and other needs that provide them with quality experiences while they live through very difficult circumstances. AFFCF is incredibly grateful for the Subaru Superstore of Chandler's support both through Share the Love and in the midst of COVID-19. When it was needed the most, the Subaru Superstore of Chandler provided extra support in two significant ways. One of the populations that AFFCF supports are young adults who are aging out (or have aged out) of foster care and are pursuing their educational and career goals. This population was drastically impacted when classes abruptly shifted to online formats and many found themselves unemployed from jobs they had held either on campus or in the service sector. As AFFCF worked alongside other organizations to help address these young adults' basic needs, the Subaru Superstore of Chandler was there to help. Their entire staff went a step above to collect food for the Basic Needs Drive that AFFCF organized in partnership with Thrive Arizona. The food they collected supported young adults who needed extra help during the COVID-19 crisis. Many of those served were part of AFFCF's employment and career development program (Keys to Success) or college students who are recipients of the AFFCF Post-Secondary scholarship. As time went on and students adjusted to online classes, the Subaru Superstore of Chandler continued their commitment to support AFFCF's Post-Secondary scholarship students by providing funding for end-of-semester care packages. Care packages provide encouragement for final exams and let students know that others are cheering them on. While the Subaru Superstore of Chandler was unable to host a care package "packing party" with volunteers at the store as they did at the end of the Fall 2019 semester, it was still wonderful to receive Subaru's support. All of the AFFCF Post-Secondary scholarship recipients (73 in total) received (or will receive) a care package filled with snacks, candy, a Starbucks gift card, socks, and a note of encouragement. Receiving the care packages, especially during this time, meant a lot to the students. As one student wrote: Thank you so much for the care package! I just received it today. It is so amazing to be thought of and cared for during this time. Thank you for your constant support! The thought means so much to me and the hand-written note was a pleasure to receive. Thank you to the organizations that make this possible! AFFCF truly appreciates the Subaru Superstore of Chandler's continued support and especially thanks Lisa Cvijanovich, who always goes above and beyond. Proudly submitted, Erika Klotz Post-Secondary Program Coordinator Arizona Friends of Foster Children Foundation eklotz@affcf.org / (602) 775-5786
---